Potential Trends in the Vietnam FMCG market report in 2020
Overview of Vietnam FMCG Market Report Insight Handbook 2020
Some notable points in Kantar Worldpanel FMCG Vietnam Report / Insight Handbook:
Total revenue from services and consumer goods in Vietnam increased by 11.6%, tourism increased by 10.8%.
Consumers still spend most of their money on food and consumer goods (27.1% in 4 big cities and 26.9% in rural areas)
The total value of FMCG increases by 5.5% in 4 big cities and 8.8% in the countryside (it is expected that the growth period for 2020-2025 will increase by 5-6%).
Beverages and personal care equipment are the categories with the highest growth rates.
The more busy life is, the customers are looking for convenience
78% of consumers support brands that tend to protect the environment.
The beauty care industry continued to be fragmented.
The Omni-channel trend in the FMCG industry.
The main indicators of the Retailed in FMCG
Vietnam's economic outlook remains bright with stable growth over the past decade
According to the chart above, you can see positive signs of the Vietnamese economy when all the indicators all reflect positive signs. Vietnam's Core CPI Change was reported at 3.254 % in Jan 2020. This records an increase from the previous number of 2.783 % for Dec 2019. Besides that, the GDP this year still remains positive with a mitigated but not significantly from 7.1 to 7.0%, marking an increase in Vietnam's economy in general. More specifically, in the FMCG industry, retail in Goods and Services has a slight increase by 0.3%, marking an increase in consumer spending needs in 2019, which is a positive sign for the businesses.
The forecast shows that Vietnam's economy is bright with stable growth. Expectedly in the period 2020 -2025, GDP will increase by 6-7% and CPI will increase by 3-4%. Services and consumer goods are considered as the main factors contributing to Vietnam's economic development in 2019.
The trend of the FMCG market
The below chart shows the growth rates between the Urban and Rural areas. The indicator shows it is quite different from two areas, especially in the short term. If the Urban area shows only signs of recovery in value and growth is slow in volume, in Rural areas both values show very strong growth. Specifically, the growth of market value in the Rural area is nearly one-third from 6.4 to 8.8% while the volume growth rate is nearly double times from 4 to 7%. However, in the long run, in both Urban and Rural areas, the FMCG market still shows stable growth.
The total FMCG value increases by 5.5% in 4 big cities and 8.8% in rural areas (it is forecast that the growth period of 2020-2025 will increase by 5-6%). Beverages and personal care items are the categories with the highest growth rates.
Traditional trade is still effective in the FMCG sector. However, recently there are more and more modern commercial competitors that have appeared, such as retail stores, specialized stores and online shopping. Vietnamese consumers are positive about future prospects. Go along with that, food safety, health and environmental issues are their top concerns. The Vietnam FMCG market report in 2020 also points out that Vietnamese consumers mainly spend on food and consumer goods (27.1% in big cities and 26.9% in rural areas).
FMCG growth by category
Besides necessities, consumers allocate more of their FMCG spending on Beverages and Personal Care products
The FMCG Report Vietnam shows that in both Urban and Rural areas, Personal Care Products posted the largest growth, followed by Dairy and Dairy products. This proves that the brands of these two categories are "doing well" this year.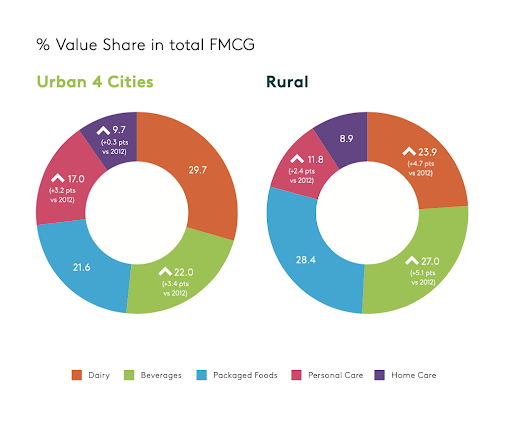 It is worth noting that in 2019, in the Rural area, the Dairy and Beverage industry still has a good growth rate of 14.7% and 9.2%. This shows that the consumption trends of this industry in the two regions have distinct differences. So beverage brands need to have appropriate strategies to catch up with this trend.
Shopping channel
We are living in an era of 4.0 industry where technology is still booming and people tend to access the Internet every time and everywhere. It is not difficult to understand why online shopping has become the strongest development channel in the Urban area, marking a 38% growth. This is evidenced by the strong development of e-commerce platforms such as Tiki, Shopee, Lazada, Sendo….
In addition, the shopping trend of consumers in the Urban area is also showing signs of shifting from department stores, small grocery stores, traditional markets to specialized stores, mini supermarkets/shops, and more convenience or supermarkets/hypermarkets. Because in rural areas, people are still more familiar with traditional shopping channels.
source: iris.marketing